Organic CARAWAY Seeds

Botanical Name:  Carum carvi

Native to western Asia, Europe, and North Africa. Also referred to as Meridian Fennel or Persian Cumin. Caraway seed has a pungent, anise-like flavor. Often used as a spice to flavor breads, especially ryes, as well as in soups, potatoes, borscht, and European cuisine. Caraway fruit oil is also used as a fragrance component in soaps, lotions, and perfumes. Caraway is also used as a breath freshener, and it has a long tradition of use in folk medicine.

Storage:  Keep tightly covered and store them in a cool, dry place. Whole spices stay fresh for up to 2 years while ground spices have a 6-month shelf life. Store red spices, such as paprika and red pepper, in the refrigerator. They will hold their color and keep their flavor longer.  
| | | | |
| --- | --- | --- | --- |
| PROCESSING | PACKING | 20' FCL Load | 40' FCL Load |
| Seeds, whole | PP Bags, 25 kg | 12,500 kgs | 25,000 kgs |
ORGANIC CARAWAY SEEDS SPECIFICATIONS: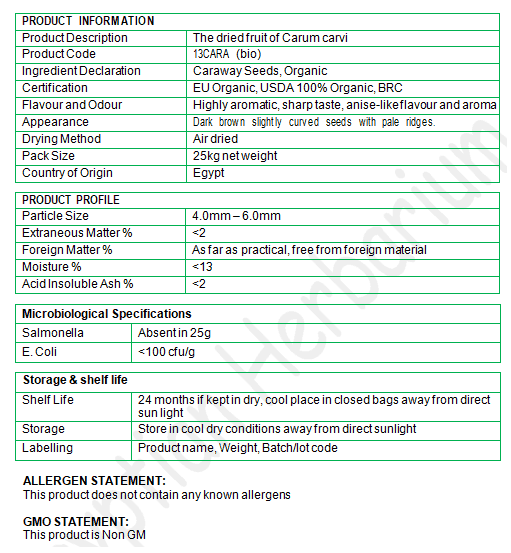 All products are certified to: