Organic PEPPERMINT Leaves

Botanical Name:  Mentha piperata

Peppermint leaves are often used alone in peppermint tea or with other herbs in herbal teas (tisanes, infusions). Peppermint is used for flavoring ice cream, candy, fruit preserves, beverages, chewing gum, toothpaste, and some shampoos, soaps and skin care products.. Peppermint oil and leaves have a cooling effect when used topically for muscle pain, nerve pain, relief from itching, or as a fragrance.

Storage: Store in a cool, dray, airtight containers, away from direct heat or sunlight. 
| | | | |
| --- | --- | --- | --- |
| PROCESSING | PACKING | 20' FCL Load | 40' FCL Load |
| C/S, coarse | PP Bags, 15 kg | 3,000 kgs |   6,000 kgs |
| C/S, TBC | PP Bags, 25 kg | 7,500 kgs | 15,000 kgs |
Organic Peppermint Leaves Specifications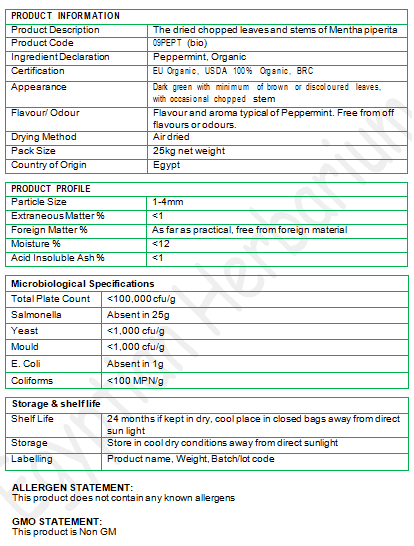 All products are certified to: